Quality Assurance
Involvement of Quality Assurance at every stage as an integrated approach to assure quality.
In built checks and balances ensure effective controls
Some unique features of bal QA system are elaborated below :

Right and proven technology
Right equipment
Right sources
Right manufacturing process
Right Systems
Manufacturing quality
Field quality in both raw material and finish product
Best Practices

Process and product quality
Quality assurance and standards
Quality Planning
Quality Control
System of feedback
Quality system Audits of production and process
ISO 9001:2015,ISO 14001:2015, OHSAS 18001:2007, ISO 50001:2011 and ISO 55001:2014 certified.
Well defined vendor assessment system
Standardisation
ISO CERTIFICATION
The global adoption of ISO 9001 may be attributable to a number of factors. a number of major purchasers require their suppliers to hold ISO 9001 certification.
Plant has obtained ISO 9001:2015 (QMS), ISO 14001:2015 (EMS), OHSAS 18001:2007, ISO 50001:2011 (EnMS) & ISO 55001:2014 (AMS) certifications.
Our Certifications : ISO 9001:2015 ISO 14001:2015 ISO 55001:2014

Quality Month Celebration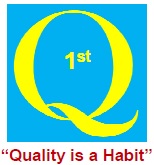 We are happy to share Quality Flag Hosting and One Team One Dream Oath taking program organized with great enthusiasm at Balasore Alloys, Kaliapani Mines, Sukinda Plant and Bhubaneswar Office.